Facebook Ads tips for Yoga Studio and Teachers have helped them a lot to increase their practice. Facebook and Instagram are two of the largest and most popular social media networks globally, with nearly 2.6 million and 1.2 million active users, respectively. Facebook reports that five new users join the platform every second, making it the perfect place to build new relationships with a highly engaged and ever-growing audience. Contrary to the rising popularity of Facebook and Instagram, there has been an abrupt decline in the organic reach from 70% to 6%.
Marketing experts believe that 'reach' will eventually fall to 0%, making 'Facebook Ads' the best alternative to engage with your audience and build a brand image. Facebook Ads is an umbrella term that includes both Facebook and Instagram ads. These ads are to be set up in Facebook Ads Manager but can be lodged on both platforms. This article will guide you through the steps of building a successful Facebook ads strategy for your yoga business. Continue reading to achieve maximum results from your Yoga school's/businesses' Facebook marketing campaign.  
A beginner's guide to Facebook Marketing for Yoga Studios and Professionals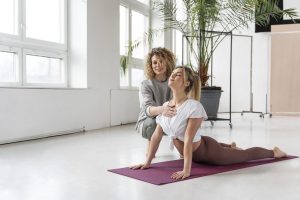 Map-out your strategy 
Jumping straight to Facebook ads without an appropriate plan or strategy is a surefire way to lose your money. Hence, it is essential to map out your vision and develop a system that encompasses your short and long-term goals. Be as precise as possible and write down the targets you want to achieve through your campaign. Here is a list of some common goals that yoga professionals and studios may come up with- 
Expanding your email list 

Driving traffic to your website

Attract students to enroll in your sessions and increase class membership

 Build brand awareness and loyalty 
Setting Up 
"Facebook Business Account is a crucial requirement for Facebook ads. If you don't have one, you cannot run ads." The first step after developing an ad strategy is to create a Facebook business account for yourself or your yoga studio. The next step is to set up a Facebook Pixel on your website. Pixel is a java script code that helps you track visitor activity on your website. If you are using WordPress, you have to install the plugin on your website and copy the code from the Facebook Ads Manager and paste it into the plugin. These analytics can be used to set up different audiences, form dynamic campaigns and measure the efficiency of your ads setup. 
Segregate your audience 
Not every social media user is a potential customer of your yoga business. Hence, creating a single ad campaign for your practice is not a good idea. There are different types of audience groups. For example, people are interested in buying your yoga products, people interested in enrolling in yoga classes, and those who want to gain knowledge from your website. Your ad strategy should be designed by keeping all these groups in mind. Pixel helps you to segregate your audience based on their interactions with you and their interests. Try to interpret this data and set up custom audiences based on their activities and engagement with your social media profiles and website. 
Test your Ads 
The next essential step for ensuring the success of your marketing campaign is testing your ads. Wear your critical hat and dive into the data. To deliver suitable ads and increase conversion rates, you need to determine which content works best with each custom audience group. Facebook and Instagram allow you to get insights about your followers and gain your website visitors' data, and you can use google analytics. Once you have concluded testing your ads, you will design optimized strategies and achieve your goals effectively. 
Budgeting your Ads 
It is a common misconception that the more you spend on your Ads, the more traffic you get, owing to which new businesses end up spending an insane amount of money on their Facebook ad campaigns. When you are new to social media marketing, do not initially use more than $5 per day per ad. You have first to study the click-through rates, conversion rates and then increase your daily budget gradually if you are confident about the copy you are using. 
Good things take time 
Facebook Ads or any promotion strategy for that matter won't make you loads of money overnight. All good things take time, so will this strategy! These Ads help you build a sustainable and profitable yoga business by building a community and attracting people who want to avail of your services and engage with your yoga business.