Is your website not providing you with desired results? Do you want SEO tips for your Healthcare  Industry or organization? If your answer to any of these questions is a yes, you have reached the right page.
SEO or Search Engine Optimization refers to improving the quality and quantity of the website traffic. It helps you drive more traffic on your website and increases engagements on your website. 
You must consider getting updated with Google's algorithm that ultimately decides the ranking of your website on the search engine result pages. We have got you some excellent tips that will help you improve SEO for your Healthcare websites.
Prefer appropriate medical keywords
Keywords play a vital role in the ranking of your website on the search engine result pages. For optimization of content on your website, you need to choose the right keywords for your industry. 
While searching for a Healthcare organization online, the user will not type in your organization's name in the search bar as they are not aware of it. Instead, people generally search for keywords like "healthcare nearby" or "dentist near me." 
You could lose a significant number of potential patients from finding your website if you forget to add the necessary keywords to your website. You can trust useful websites like Google Keyword Planner for this purpose. It will recommend the best keywords for your website based on search volume and trends.
Either way, you can not "stuff" relevant keywords into your website content. Google identifies such tactics as "spam" and pushes your website ranking. It will help if you place specific, long-tail keywords into your content relevant, readable, and natural.
Optimization of visual elements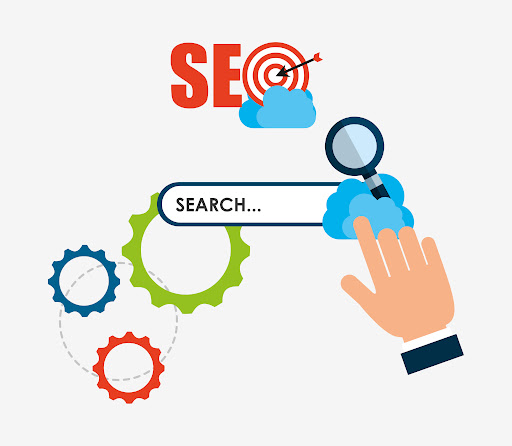 Sharing images and videos of your healthcare industry practices on your website will help you drive more traffic and generate qualified leads for you. 
One of the most popular ways preferred by audiences to consume content is through videos. You can attract more organic traffic to your website by adding relevant videos. It will also help your audience stay on your page until they finish the engaging video.
Adding visual elements to your website will do wonders for you as search engines will appreciate this engagement and consider valuable information is available on your website. It will help if you add a virtual tour to your healthcare organization on your website. 
Furthermore, you must not forget to add appropriate alt text to all the images available on your website. It helps visually impaired users and Google crawlers understand better what is being displayed on the page.
Optimizing website for speed, security, and mobile use
The crucial factors affecting the ranking of your website on the search engine result pages are website speed, security, and mobile-friendliness. 
Consider a situation where you searched for urgent information on a topic, and the website took more than usual time to load its page. You would move to another website that has a higher loading speed. 
Although Google does not penalize a slow-running website, you will be losing potential patients. You must consider your website to load correctly in at most 2 seconds. You can refer to Google's Page Speed Insights to get a detailed report about your website performance and ways to fix the loading speed.
Data is the new currency for this technology-driven world. You must provide security to the users visiting your website. From a healthcare industry or organization's perspective, you will be accepting sensitive patient information on your website that must be kept safe.
An SSL-certified website helps you encrypt your website's data, ensuring that your website's data is safe from hackers. 
Moreover, it will be a big mistake not to optimize your website for mobile-friendliness. Although earlier, it provided an additional advantage to websites with mobile-friendly optimization, now it has become a necessity. 
Most people will prefer their mobile phones to search for healthcare nearby rather than on their systems which are not portable.
Local SEO
For the Healthcare industry, it is necessary to keep your Google My Business updated and optimized. Patients will be more willing to visit nearby organizations than one far away from their location. 
These suggestions are displayed over organic search results on the rest pages and contain information primarily from your Google My Business page. There are certain things that you must ensure are correct and up to date, including:
The business categories

Your primary phone number

Google reviews of your current and past customers

Hours of operation of your business (and any seasonal hours)

A detailed description of your business 

Your complete address or service area
Conclusion 
We hope that the above paragraph will help you understand the complex concept of SEO and tips to improve SEO for your Healthcare organization. Please stay connected with us for more information about marketing tips, SEO, and related blogs.